Pickleball at ClubSport Aliso Viejo
What happens when you combine the best elements of tennis, badminton, and ping-pong? You get pickleball: a super sport that is three times the fun! Pick up a paddle and enjoy a game that is social and friendly, with a sprinkle of competitiveness. It's a great sport that can be enjoyed by all ages and skill levels.
With a ClubSport Aliso Viejo membership, you get access to three indoor Pickleball courts, drop-in and learn-to-play programs, family Pickleball plus all of our world-class fitness amenities. So stop dinkin' around and get started with a ClubSport membership today!
Learn to Play Pickleball
Tuesdays, 11am-12pm, Thursday, 5pm-6pm
Learn the basics of pickleball, etiquette, and strategy plus how to feel confident and comfortable on the court.
Pickleball Drop-In Play
Tuesdays, 12pm-1pm, Thursdays, 6pm-7pm
Get on the courts and play. Play organized by our Coaches.
Family Pickleball
Saturdays, 12pm-2pm
Get the whole family involved and learn to play the fastest-growing sport in America. All ages are welcome, however, your child must be able to hold a racquet.
Take $50 Off Your First Month + Get a Free 1:1 Pickleball Lesson
Fill out the form to schedule a visit and to get more information.
Some restrictions apply. Cannot be combined with any other offer. Offer expires 10/31/22.
We have invested in the club so you can invest in yourself.
We are excited about the opening of our brand-new 5,000 square-foot Edge Performance Training Center, the addition of pickleball to our court sports offerings, plus the opening of our dedicated Formula3 studio for our boutique-style classes using water rowers, sprinters, TRX suspension training, sandbags, and more. One of the largest fitness clubs in Orange County just got even better and we can't wait for you to experience it!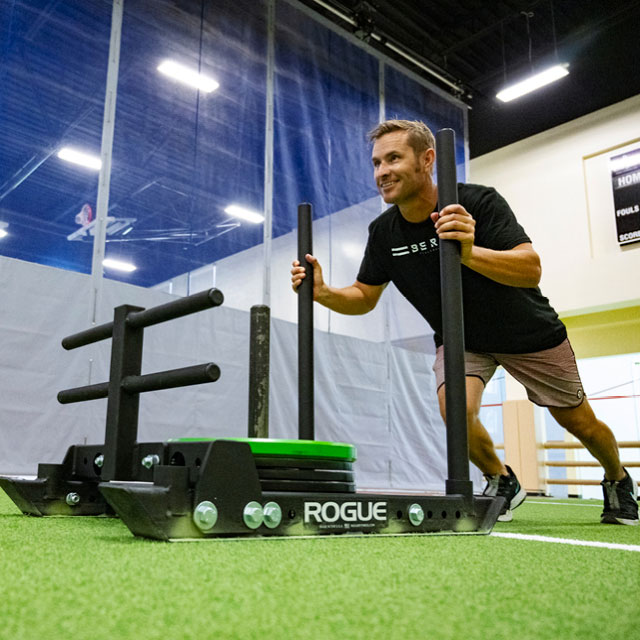 Take a Look at ClubSport!
What makes ClubSport truly different from other gyms is our commitment to maintaining the highest standard of cleanliness. From incorporating top-of-the-line sanitation technologies like the BioSafe Biological Cold Fogging system to enhancing our associate training and policies, your safety is our number one priority.
Air Quality
We are exceeding the highest level of guidelines for bringing outside air into the building, the frequency of air exchange, and we are taking additional precautions with additional air filtration with the use of air purifiers throughout the building. These air purifiers use pre-filtration, carbon filters, HEPA filters, and air ionizers for the highest level of air filtration. Combined with our extensive cleaning protocols, this provides an additional level of assurance for our members as they return to indoor fitness to provide the variety they need to support their physical and mental well-being.
Cleaning & Disinfecting
Dedicated Clean Team members are located throughout the club to ensure the highest level of ongoing cleaning practices.
A weekly deep clean throughout the facility using our professional BioSafe Biological Cold Fogging system. BioSafe Fogging is a unique disinfectant process that is EPA-certified, non-toxic, non-corrosive, 100% biodegradable, and environmentally safe.
Disinfecting and sanitizing stations are conveniently located throughout the facility.
Additional updates are being executed for the safety of our members, guests, and associates as well. View our full guidelines here.